Shiny and healthy hair is something that is desired by all. However, sometimes due to external factors, we start losing its healthiness. Most of the times these factors are out of our control such as pollution but, we can pay extra attention to our hair to ensure it remains as healthy and beautiful as ever. From the ancient times, Coconut oil has played a vital role in keeping our hair clean, shiny and healthy.
This article will tackle a more specific problem which a lot of us suffer from: dandruff. It will show how to use coconut oil for dandruff.
Coconut Oil for Scalp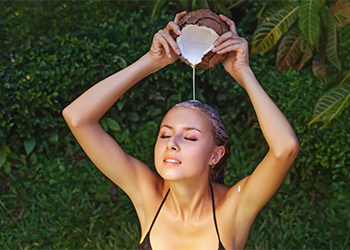 Coconut oil for dry scalp is very beneficial, it helps fight dry and itchy scalp as the oil moisturizes the skin and helps correct redness and irritation.
Coconut oil improves scalp conditions, including dandruff. Its antibacterial properties reduce folliculitis, which is a common infection of the hair follicles.
Daily washing strips hair of its sebum, which often leads to dry, frizzy locks; coconut oil acts as a protective barrier between washes ensuring hair stays soft and silky.
Coconut oil's medium-chain fatty acids, including lauric acid and capric acid, show strong antiviral, antimicrobial and antifungal properties that go after the fungus and aid in killing it, as well as viruses and bacteria that could possibly be lurking on your scalp.
How effective is coconut oil for dandruff?
Dandruff is one of the major problems in the scalp. It can occur if the hair is not cleaned properly every day, external chemicals are used or oil is not massaged. Coconut oil has antibacterial and antifungal properties that help combat dandruff. By combining coconut oil with any other natural ingredients, such as lemon juice, dandruff can be removed easily.
As coconut oil is packed with tons of benefits for your scalp and hair,it is very useful in combating dandruff and has been used as a natural treatment for thousands of years. The unique nutrient composition that makes it up can counteract or neutralize not only the worst symptoms of dandruff but also the underlying cause of this irritating and unsightly phenomenon.
How Parachute Advansed Coconut Hair Oil helps to prevent hair from various concerns?
Parachute Advansed Coconut hair oil will solve almost all your hair concerns, this is not limited to just dandruff, it is also the best coconut oil for hair loss as it nourishes your hair 10 layers deep making sure the hair that grows is strong and healthy which reduces breakage, therefore hair loss.
If you have frizzy hair, Parachute Advansed will be of great help. In fact, a bit of this oil will help tame your curls and keep them under control, which is why it is a great coconut oil for curly hair.
This product is also a natural deep conditioner through its 100% natural coconut oil. Deep conditioning is very important to maintain growth of the hair.
Additionally, it contains fatty acids that reach deep into the roots and nourish it. Deep conditioning can be done by massaging the hair from the roots to the ends with Parachute Advansed coconut hair oil a few hours before washing the hair.
Parachute Advansed is also an amazing coconut oil for dry hair,it acts as a moisturizer to relieve dryness of rough hair. Applying a very small amount of it on the palm of the hand and applying it on the hair will remove the dryness instantly and maintain the moisture of the hair.
We hope this article will help you in your hair care journey to combat all the hair problems you face including (but not limited to) dandruff. Just note that you should be patient, most of the time, these preparations simply don't show improvements instantly. At the end of the day, the goal is to make the scalp healthier, moisturized and free from fungus and any presence of dandruff. Coconut oil hair treatment may not make dandruff go away overnight, but it should typically show positive results in just a week or so.
Explore our blog section to read more about topics such as Does dandruff causes hair loss? Home Remedies for Dandruff and Hair fall, What are the different Types of Dandruff & Which is the Best dandruff removal oil to get rid of hair problems naturally at home.