Ever wonder why your hair gets so frizzy sometimes? It's almost as if it gets excited to see you. But are you as excited to see what were once silky strands of fine hair have become random zigzags poking out of your scalp? While frizzy hair is usually associated with humidity and wetness, it also occurs as a result of having dry hair which lacks moisture. In instances where you need to ditch the frizz or tame your mane, Parachute Advansed offers you some insights as to how you can go about your daily life with manageable hair. These home remedies for frizzy hair might sound intimidating, but don't worry, we'll walk you through the step by step process of maintaining your mane.
Some home remedies for dry and frizzy hair include essential oils to apply as a frizzy hair treatment at home, such as coconut oil and argan oil. Other remedies, such as avocado and eggs, can be found in your kitchen.
1. Apply Coconut Oil
First, coconut oil is high in lauric acid, meaning it is easily absorbed and can add a good deal of moisture to your hair, which in turn will inhibit the frizz. This makes it a dynamic damage control oil. We recommend you use organic coconut oil, and simply apply a handful to your hair about 15 minutes before you shower. Once you get in the shower, rinse it off and shampoo your hair as you usually would.
2. Apply Argan Oil
Next, argan oil is very high in oleic acid and linoleic acid, as well as having antioxidants such as vitamin E. In order to use this tool for frizz reduction, simply apply it (sparingly) to your wet hair before you style it. You should keep in mind that if you use too much argan oil, your hair may appear greasy. Another important thing to be aware of is that you should aim to distribute the oil quite evenly (from scalp to tip).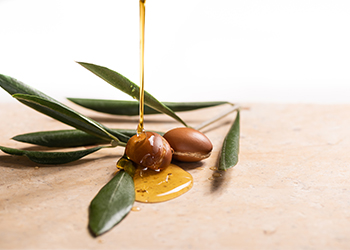 3. Apply Avocado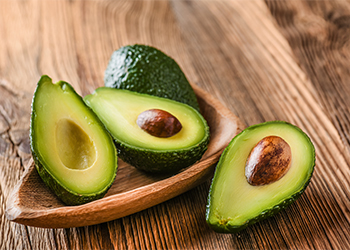 Third, an avocado toast never hurt anyone, and neither does this easy hair mask that serves as a great home remedy for dry, frizzy and damaged hair. Avocados are a great natural treatment for frizzy hair. Loaded with moisture, as well as vitamins A and E, avocados might be the frizz-killer you've been searching for. Arguably, one of the most effective dry and frizzy home remedies, it has an easy to follow recipe. Simply mash a ripe, medium-sized avocado, and mix it together with 2-4 tablespoons of coconut oil. The consistency should be somewhere between honey and water. Then apply the mixture to your scalp and hair. Cover with a towel or plastic cap and let all the ingredients soak into your hair for about 20-30 minutes. When the time's up, rinse and shampoo your hair well enough to get everything out. This is one of the most natural remedies for frizzy hair that you can use up to twice a week.
4. Apply Egg
Finally, one of the most infamous home remedies to get rid of frizzy hair is eggs. This might be the most stomach-turning of the home remedies for frizzy hair, but it might just do the trick. Because of their richness in saturated fats, biotin and vitamins, eggs can not only contribute to de-frizzing your hair, but they can also make your hair shinier and healthier. If you are allergic to eggs, please stay away from this treatment. To make an egg mask as one of your home remedies for frizzy hair, just whip two eggs together in a bowl until they are frothy, and then apply them to your scalp and hair liberally. Following this, cover your hair with a plastic cap for about 15 minutes. Remove the mask by rinsing and shampooing your hair thoroughly.
In tandem with the aforementioned home remedies for frizzy curly hair, Parachute Advansed Hair Oil will work beautifully to ensure that you have long, strong and gorgeous hair. With coconut oil and vitamin E as the main ingredients, it protects your hair from everyday damage and penetrates ten layers deep into your roots for superior nourishment
Frequently Added Questions
How do you get rid of frizzy hair at home?
To get rid of crimped hair at home, try one of the natural home remedies for frizzy hair and split ends mentioned above. If you want to ensure that your hair is not frizzy at all, use the Parachute Advansed Hair Oil as well, for maximum effectiveness
How do I stop my hair from frizzing?
There are many ways to stop your hair from frizzing. The home remedies for dry frizzy hair and Parachute Advansed Hair Oil are good examples of what you can apply to your hair to tame it. If your hair is prone to frizzing, these remedies will work like a charm.
Is frizzy hair unhealthy?
No, frizzy hair is absolutely normal, it just serves as an indication that your hair might need some extra attention and care. Maybe you're just in a climate that your hair is not used to, and this is its way of telling you. Try one of the dry frizzy curly hair home remedies and see how your hair responds to it. If your hair is extra frizzy and you can't seem to figure out how to get it under control, try Parachute Advansed Hair Oil together with the home remedies to see the desired results appear quicker.
As you can probably tell, home remedies for dry and frizzy hair come in all shapes and sizes, but what they all have in common is that they will make you look like your best self. With the help of natural products such as Parachute Advansed Hair Oil no matter what climate you happen to be in, you will feel and look your finest. In the end, the amount of frizz doesn't matter. You must realize that it is a cry for help from your hair. Hair is a natural extension of your being and deserves to be treated as such. Think of it like brushing your teeth. Unlike brushing your teeth, however, not taking care of your hair is more aesthetically obvious. Frizz can be as frustrating as waking up with a sore throat, but unlike sore throats, which are treated immediately, most people will neglect their hair. Ultimately, your hair deserves to be treated with love and care, and when you start to treat it as such, it is guaranteed to show.
Explore our blog section to read more about topics such as Winter Hair Care, different Home Remedies for Thick Hair that work, and so on to get rid of hair problems naturally at home.