Have you been suffering from dry and damaged hair for a long time? Are your current hair products and moisturizers not working for you? If you have thick coils or excessively dry hair, the chances are that you need a denser moisturizer to cover your hair thoroughly and for the moisture to seep into the scalp. Make the switch to shea hair oil if this is the case, and have your hair hydrated while also soaking in the nutrients present in this 100% natural oil.
What is Shea Oil?
Shea oil is a thick liquid extracted from the nut of the shea or karite tree. The oil is thicker in consistency than most others but not as thick as its butter form that is used for the skin. The oil is cold-pressed and retains its liquid character if stored in a cool, dry place. The oil is rich in fatty acids, linoleic acids and oleic acids, hence keeping all of their goodness and benefiting the health of your hair. Shea nut oil benefits for hair are tremendous because it does not lose any of its properties when processed.
Shea oil is often used as a hydrating mask for dry hair or skin but can be switched to a cleanser due to its antibacterial and antioxidant properties. You can also find shea in many fragrant body washes and other skincare and hair care products due to its sweet-smelling fragrance and soft colour.
Shea Oil Benefits and Uses
1. Hot Oil treatment for dry, damaged hair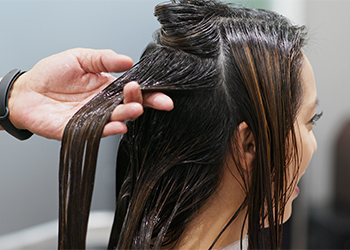 One of the many shea oil benefits for hair is its moisturising properties. The oil is thick and seeps into your scalp, effectively giving your roots and shaft the moisture they need. Due to this, it can also reduce split ends as it packs the strands together. Using shea oil as a mask or a deep oil massage treatment before washing your hair is an effective way to gain all its benefits. You can simply heat the oil and apply it with a paintbrush so that it is evenly distributed. If you have an oily scalp and dry ends, make sure that you only use the oil on your tips to get rid of split ends or dry hair and not to the scalp.
2. Prevents breakage or split ends
One of the core components of good hair oil is that it reduces breakage or further damage to your hair. This is one of the foremost shea nut oil benefits for hair. The oil retains the vitamins that are present in its plant form. This means that your hair benefits from the nutrients of Vitamin A, E and F, along with the proteins that make the hair follicles bond to the scalp as well as other strands. If you treat your hair, especially the ends, with shea nut oil frequently, you will see a significant reduction in hair fall and breakage. Split ends are also taken care of as the hair is not as dry. If you suffer from hair fall when using heating products or chemicals, dab in some shea oil to act as a protective barrier to reduce this outcome.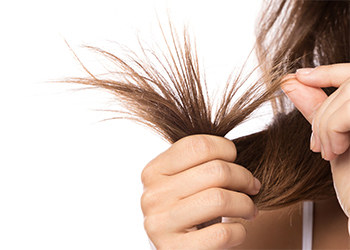 3. Carrier oil for essential oil blends
Essential oils often require an agent to dilute their strength so that they can earn maximum efficiency. Oils like shea nut oil form great base ingredients for creating these blends. This is because the oil has an excellent texture for mixing, doesn't overpower the essential oil, and its properties allow for blending while diluting the other ingredient. While shea oil can be fragrant, it is not enough for it to empower any other essential oils that you may use, making it the perfect blend.
If you ever try to make a DIY hair mask, using shea nut oil as your base is a great start. This is because the oil is thicker and can stick to your hair while also blending other ingredients. Shea oil blends retain the shea oil benefits while enhancing the uses of the other elements.
4. Moisturizing properties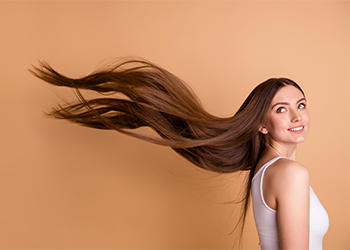 Shea oil benefits range from dealing with dry and damaged hair to providing a protective barrier. However, one of the main benefits of the oil remains its moisturizing properties. The oil has a myriad of components that aid in hydrating your mane, and it is often prescribed for thick coils or hair that needs a little more touch-up. It can also tame frizzy hair and add a shiny, soft look to your mane. It is occlusive and emollient, so it does not allow for any water loss while also filling in the cracks that may have dried up or gotten damaged. Due to the presence of oleic fatty acid, shea oil is a great source for hydration and a protective barrier from external conditions that cause dry hair.
5. Reduces scalp irritation
While shea oil benefits for hair are largely focused on nourishment and hydration, you cannot leave out the benefits it provides to the scalp. The nut-based oil has both antibacterial and anti-inflammatory properties. Both these properties play a huge part in reducing scalp irritation and keep it healthy so that your mane has a strong base. If you are plagued by dandruff or other scalp irritants, the antibacterial properties of shea oil benefits you greatly, whereas those who are looking to reduce inflammation or stress to the scalp benefit from its anti-inflammatory properties that promote blood flow. While using it, keep in mind that shea oil can add to any build-up if your scalp is already oily.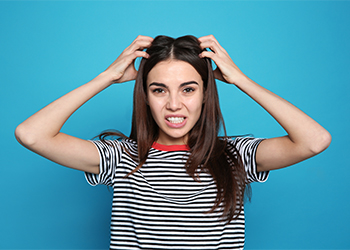 Frequently Added Questions
Is shea oil good for your hair?
Shea oil is one of the best products to use if you have dry or damaged hair. The oil contains many nutrients that make it perfect for use for all hair types and conditions. Shea oil is especially good to reduce scalp irritation, moisturise dry hair and get rid of split ends. However, you must avoid excessive use of shea oil if you have an oily scalp and not use it at all if you have an allergic reaction to nuts.
Can I leave shea oil in my hair overnight?
While there is no restriction about leaving shea oil overnight, especially if you use it as a pre-shampoo, it is better to use it in other ways. The thick oil is great for using but leaving it for too long can make your hair greasy and cause a build-up of oil. Consider using shea nut oil as a hair mask, a blend with other essential oils, a slight spray to increase shine or a pre-poo hot oil treatment.
Does shea oil make your hair grow?
Yes, shea oil benefits for hair include promoting its growth. Shea oil has anti-inflammatory properties that improve blood circulation in your scalp. This accelerates growth while keeping your roots strong and healthy. Shea oil can also reduce the damage done to your hair and promote silky and smooth locks. The result of these locks is lesser split ends, which means that your hair will grow a healthy amount. To increase growth, ensure that you get frequent trims along with using shea nut oil regularly.
To Sum Up
Shea nut oil is a thick, moisturising oil that can benefit your hair in a myriad of ways. It is a versatile ingredient that is available in the form of pure oil, conditioner or mask. If you ever find yourself in the hair care aisle and don't know which product to choose for your dry and damaged hair, getting shea oil is a safe bet that will give you your desired outcome.
However, ensure that you do a spot test before including this product in your daily hair care routine. This is because shea oil is a nut-based product, and if you're prone to nut allergies, the chances of a bad reaction are high. If you do include shea oil in your routine, don't limit the way in which you can use this product and ensure that you give it time before you demand results. Ideally, your damaged hair should return back to its soft, smooth and natural state in the next three months, but don't fret if it takes a little longer than that. In the end, if you see your hair become better and react positively to the shea oil, you know that the product is the right choice for you.