If you've ever lounged at the beach and looked up at the giant palm trees overhead, you're familiar with the coconut tree. But did you know that those trees provide much more than just a respite from the sun? Coconut is often claimed as a superfood and an elixir, depending on the industry you look at. The wonder fruit provides benefits regardless of how you consume it- as an essential ingredient in your food, a skincare product or a haircare elixir.
Due to its 100% natural properties and benefits, using coconut oil for face can be extremely useful. We will discuss this in detail below and answer all the questions you may have about the benefits of coconut oil on face.
Steps for using coconut oil on your face overnight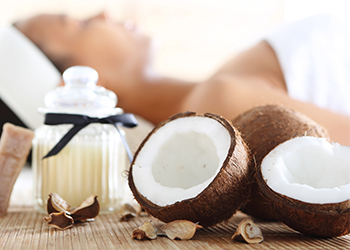 STEP 1: Prepare the Oil
The first step to your nighttime routine should be to liquefy the coconut oil. You can do so by heating the coconut oil on a stove for a minute or rubbing it between your fingers until it takes on a smooth texture. You can also use virgin coconut oil for face as it is more readily available in kitchens.
STEP 2: Rub Gently on Your Face
After you have prepared the oil as instructed, gently rub on the most affected areas that have dry or damaged skin. Ensure that you spread a generous amount to get the maximum benefits of applying coconut oil on face overnight.
STEP 3: Remove Any Residue
Make sure that any thicker patches are blotted out as they may cause your skin to become oily. Coconut oil for face works best when you do not overdo the usage as it may lead to excessively oily and sticky skin. When blotting out the excess oil, ensure that you use a tissue or soft towel instead of cotton as the latter might stick to your skin.
STEP 4: Apply a light layer of the oil on your face overnight. Before you sleep, check if any of the oil has not dripped down to your eyes, as it may make your vision slightly blurry.
Those are the steps for using coconut oil for face overnight and on a daily basis, and you can also use it on your face in many other ways. This includes but is not limited to using coconut oil for face moisturiser, making a face mask with coconut oil, or even as a natural makeup remover.
Choosing the best coconut oil
Coconut oil for face is available in many different forms in the market. You may find labels stating- refined coconut oil, virgin coconut oil and extra virgin coconut oil. All these oils are essentially the same and contain all the benefits that make coconut oil good for face. However, one of the oils may work faster and better than the other. The main difference between the three stated before is that they're processed differently. While the refined coconut oil is more chemically induced, the virgin coconut oil retains its natural properties and is cold-pressed. The extra virgin coconut oil, on the other hand, is a liquefied version, which is mostly used in the kitchen.
Using unrefined oil or virgin coconut oil for face is the best for skin care, especially for those with sensitive skin. Since it is not treated with chemicals, the oil is more beneficial and has a lesser chance of reacting badly. You can also use coconut oil for face by blending it with other essential oils and creating a mask that is more customised to your skin type.
What are the benefits of using coconut oil on your face overnight
The main components that make coconut oil good for face are linoleic acid, which contains Vitamin F and lauric acid that contains saturated fats and antibacterial properties. Listed below are the benefits of applying coconut oil on face overnight that may convince you to switch to this bountiful oil.
1. Moisturising Property
Coconut oil for face moisturiseris an essential component in products as it contains hydration properties. The oil acts as a layer that traps the moisture in your skin and protects it from being exposed to environmental factors such as wind or the sun. The fatty acids in coconut oil are also good as a moisturiser because they act much like the sebum produced by your body. The oil penetrates deep into the skin and hydrates your face, making it glow at all times and avoiding dry patches.
2. Fights Pigmentation
Coconut oil fights the dark circles that may form under your eyes or even the spots that may make your skin tone uneven. Its anti-inflammatory properties lend a hand with reducing the puffiness whereas the oils natural components lighten the skin. Another one of the benefits of coconut oil on face is that it prevents tanning or sunburn as it acts as a mild SPF.
3. Anti-Ageing Properties
As coconut oil prevents inflammation and has collagen present, it slows down the process of ageing. The collagen helps in tightening the skin and filling the fine lines so that signs of ageing are not visible and using coconut oil for face leaves it glowing for a long time.
4. The Solution to Acne-Related Problems
You may think coconut oil good for face may only be limited to pigmentation and protection, but it also forms a great solution for acne-related problems. Not only can it reduce the appearance of non-inflammatory acne such as blackheads and whiteheads, but it can also use its anti-inflammatory properties to reduce the more serious acne on your face. The antibacterial properties of coconut oil also benefit this as the acne is killed effectively if you apply it overnight.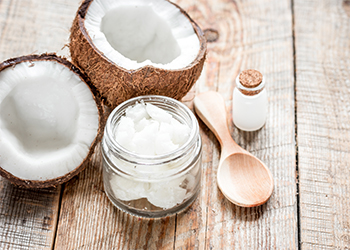 Are there any side effects?
While coconut oil for face is an effective solution, some precaution must be taken before using it regularly. If you have oily skin, you may want to stay away from overnight use, and instead, try using it only for specific purposes. You may also prefer to include it in your diet instead of direct usage. Coconut oil is the perfect companion for dry skin but using too much of it can also make your skin oily. Doing a patch test before using it on your face is also a good way to know how your skin will react to the oil.
Why should you use Parachute Advansed Skin Care Products?
If you want to obtain all the benefits of coconut oil on face, using a product that has it as the main component is a perfect fit. The Parachute Advansed range of skincare products provides a solution where the product keeps coconut oil on the forefront, retaining all its components and benefits. It also has a range that allows you to customise your skincare routine to your skin type.
Frequently Added Questions
Does applying coconut oil on your face cause facial hair growth?
The lauric acid in coconut oil can stimulate hair growth that may lead to facial hair. However, this is only when used in stimulants. When used directly, coconut oil may also reduce the growth of hair over time. Both these statements may differ depending on genetics and hair type.
To Conclude
Coconut oil for face is one of the most effective and natural products you will find in the market. It tackles many problems, reducing the need for multiple supplements. If you use coconut oil, make sure that you do a patch test and most of all, give your face the time it needs to heal and return to a glowing, healthy look.
Explore our blog section to read more about topics such as Health Benefits of Coconut Oil, how to use Extra Virgin Coconut Oil for Hair Loss, Benefits of Coconut Oil for Skin, Is Coconut Oil good for Acne and so on to prevent your face from Anti-Aging.